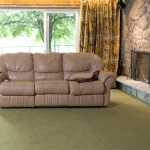 1. Make the musty basement not musty
Before the summer is in full swing take time to improve air quality in the basement. Clean out the air vents and replace any dirty or old air filters.
Opening windows is one of the best ways to scrap that musty smell. Get new air flowing into the basement movie room, bedroom, play room, and food storage closet. Your window well doesn't allow for air flow? Not a problem – Rockwell egress window wells have openings large enough that a person can exit the basement in case of emergency – meaning the openings are more than enough to easily ventilate the basement. If you don't have them, you may consider it. Adding egress windows can dramatically improve air quality and lighting in your basement, and even look quite attractive. We suggest this egress window kit to get you started.
2. Insulate the walls

Just before the heat of summer is a great time to add insulation.  Insulating the walls of your basement will help to keep it cool all summer (and then warm in the winter later) saving you money on that electric bill. You could caulk around the doors and windows, or even consider adding another window. An extra egress window can double the ventilation as well as add more natural light! It's a win-win.
3. Check for cracks


With the summer months come summer rain storms and the use of sprinklers – both of which put your basement at risk for flooding. To ensure that your basement stays dry inspect the foundation, basement walls, and floor slab for cracks. Perform a visual inspection of the ceiling, walls, and floor in every room to look for signs of moisture. Track down the source of any problems before sealing, caulking, or insulating. This is a process you should perform regularly – especially if you live in a more humid climate.
4. Prepare to Have Fun

Now that you know your family is safe and sound, the fun can begin! Stock the basement with things your family and friends most enjoy: new movies, favorite treats, and upbeat music. Your loved ones will be able to enjoy themselves while seeking refuge from the heat. So, get going! You're about to make this summer the best summer yet.