This post is the fourth and final article in the series on incorporating texture into the interior design plans for your basement. Here, we will explore a variety of ways to convert dull, uninteresting basement walls into walls that are eye catching and create a welcoming aura. Remember, the choices you make regarding wall texture are important and will likely vary depending on the purposes of each room and your broader goals for the basement as a whole.
What are you looking for?
"I'm on a budget…"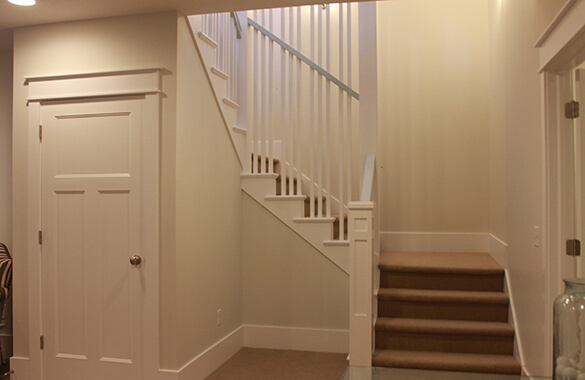 Do you need to add texture without a lot of expense? Consider applying sealant or primer directly to the unfinished basement walls and then painting the walls in a color of your choice (***Remember! Buy mold-resistant paint for basement projects). Choose from textured paint or regular paint in matte, semi-gloss, or high gloss. If you want a finished surface that really shines and is easy to clean, add a glaze after the paint has dried.
"I want to do it myself…"
Do you like textured drywall? If you enjoy do-it-yourself projects, there are many different patterns you can create. You even can use stencils to create a textured mural on your wall.
"I like the cozy feel of wood…"
Do you like the look and feel of wood? Make a sketch of each basement wall and draw in the locations where you would like to add wainscoting, wood trim, or paneling. Alternatively, decorate one wall with plywood squares or wood veneer tiles. Wood adds visual appeal and gives a warm feel to any room.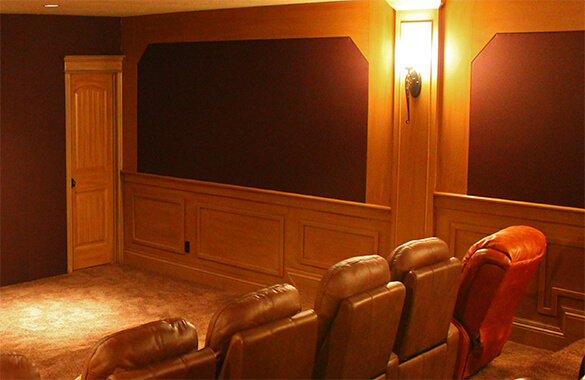 "I like the clean feel of leather…"
Do you like the look and feel of leather? Check out leather tile. This tile is best installed over plywood. Although you probably don't want to tile an entire room with leather, the tiles create a sleek vibe when used on an accent wall.
"I need noise control…"
Do you like the look of leather and need a material that absorbs sound? Choose faux leather tile – it's easy to clean, fireproof, and water resistant.
"I'm ready to get creative…."
If you like the idea of using tile to add texture to your walls, take a look at other types of tile as well. Tiles made of porcelain, glass, metal, and plastic are possible options. These tiles come in such a wide variety of textures and designs there is sure to be one that is just right for you and your family.

One way to involve all members of your family in creating a unique accent wall is to have their handprints become part of the textured design. This can be done very simply if you decide to paint the wall. Just have each person press his or her hand firmly against the wall while the paint is still wet. Handprints also can be incorporated into textured drywall.
"I'm tight on space…"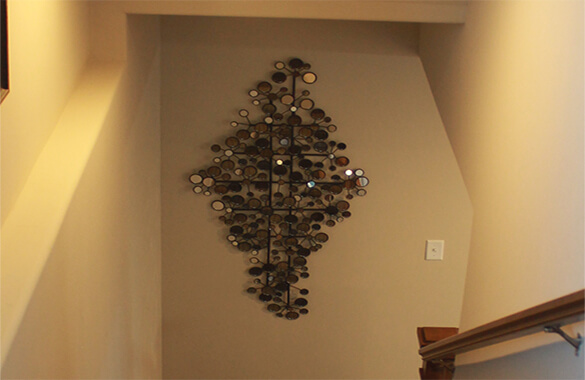 Do you have a wall in your basement that you would like to utilize for hanging things? An interesting way to add texture is to install a large pegboard with hooks where you can hang up coats or tools. You also can hang pictures, or you can hang baskets in which to keep magazines and DVDs or supplies for school, the office, or crafts.
Wall Texture Tips
How fancy you get with wall texture in your basement is strictly up to you and your family. Often, just a touch of texture is enough to add balance and variety to an otherwise flat surface. This might be accomplished with a bit of wall trim or a fun and distinct design on one wall.
Study your interior design plans to determine the wall texture additions that will work best for you and your family. Be sure to test material samples against the lighting in your basement – both natural and artificial –  to see how each sample will look. Once you make your choices and the project is completed, you can sit back, relax, and enjoy your basement.