This article, second in the series on the interior design of basements, features ways to design a common space or living area. Just picture yourself enjoying your newly finished common space. What do you see?
Involve all members of your family in the planning process for your basement's interior design; obtain input as to what is most important to include. Might family members enjoy a quiet nook for reading or a cool spot to exercise? Should there be a children's play area? Will you there be eating or drinking? How many people will be using the living space at the same time? If your plan involves kids, food, and/or regular gatherings, easy-to-clean surfaces will be key to your design plans.
Do you want to be able to use your basement to watch TV or a movie? Would you like to entertain guests for informal gab sessions, sitting around a table drinking coffee, munching on snacks? What types of games would you like to have available? Should you include space for shooting a game of pool or playing a rousing game of table tennis?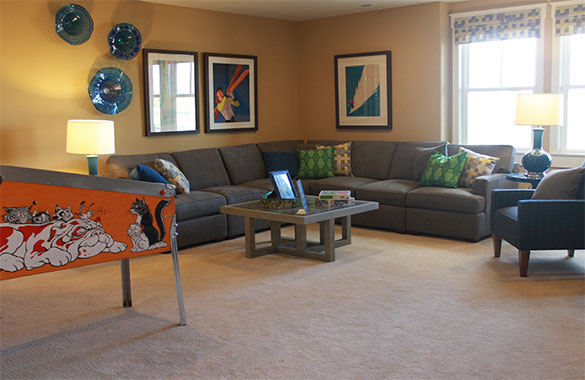 Once you and your family decide on the features that are most important, you can focus on how best to design the living space. Also keep in mind what changes you may want to make later on. Designs for walls, dividers, and lighting will vary according to preferred uses, both now and in the future.
Depending on the preferred use for your basement living space lighting can be very important. If you are looking to brighten up your basement, adding natural light is a great way to do so. One way to easily increase the amount of natural light in your basement is by adding a well placed window well. A window well permits light to fill up the basement allowing you to keep your lights turned off during the day. An additional idea for adding both light and style to your basement is to install an egress window well.
Because basements are naturally cool spaces, they are ideal for exercise or other physical activity. For other uses, you will want to include a source of heat in your design plans. Baseboard heaters are a popular choice. You and your family also might like the warmth of radiant mats. These install underneath floor tiles or other coverings. They provide evenly distributed warmth to basement floors and are energy efficient. The coziest choice of all, however, is a fireplace. Who can resist the warm glow and flickering light of flames viewed through the fireplace's glass doors? A direct vent fireplace that burns natural gas or propane is fairly easy to install. Because the vent for this type of basement fireplace goes through the home's wall a foot or more above ground level, the fireplace itself must be located next to an outside wall.
Before you finish the ceiling of your living space, insulate the pipes. This keeps hot water hot and prevents the chilled surfaces of cold water pipes from causing condensation. Although moisture-resistant drywall often is used for basement ceilings, there are more creative ways to go. Drop ceilings, which consist of removable panels inserted into metal frames, allow easy access to pipes or ducts. These panels come in a wide variety of materials, textures and colors.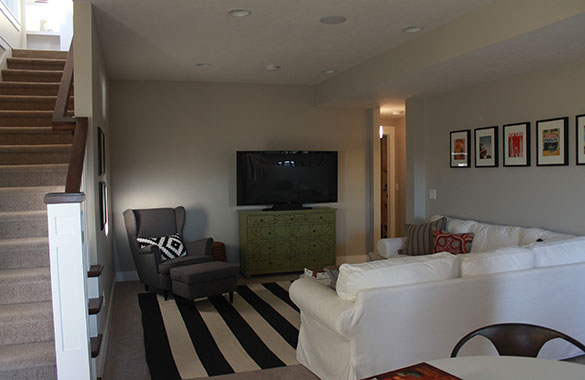 Tray ceilings also are quite popular, especially to accent certain areas of the basement. You could install a drop ceiling for most of your living area, for example, and construct a tray ceiling over the area where you exercise. A tray ceiling makes the area beneath it seem more spacious and sets it apart from the rest of the room. Add a egress windows and window wells to provide natural light and fresh air.
With these few tips, making your basement a natural gathering place for friends and family couldn't be easier!