In this post, second in the series on furnishing your basement to suit certain purposes, we will explore furnishings that will help guests enjoy their stay. Whether you furnish your basement to entertain guests or fix it up to provide accommodations for longer visits, the furnishings you choose say a lot about who you are and how much you care.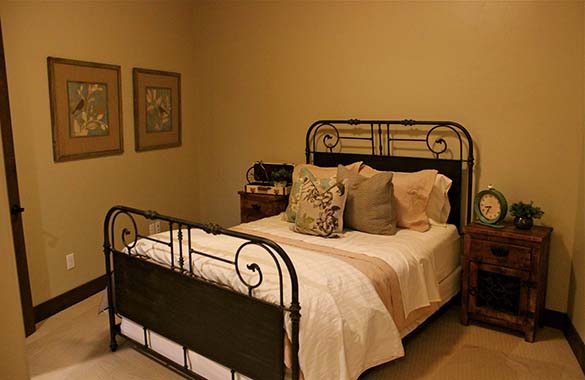 Before choosing furnishings, decide how you want your guests to use the basement. If you want to furnish an area for socializing, your choices will be much different than choices involved in furnishing the basement as a place for your guests to rest and relax. If you have enough space, you might decide to develop the basement as the "go-to" location of your house for a variety of uses by guests. Ask for input from family members, and let them come along for the shopping! That way, everyone will be happy with the results of your efforts.
Furnishing For Guests From Out-Of-Town
If your guests will be staying overnight or longer, your basement can provide a quiet haven that allows them to take a restful break. Having hosted out-of-towners a number of times, I can promise you that you will appreciate this separate space as much as your guests – it will give you a great peace of mind. Here are ideas on furnishings that will provide for their comfort and make their stay memorable: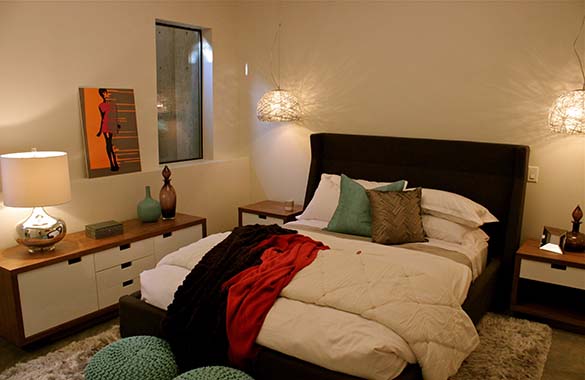 Nightlight or flashlight in the sleeping area

Method that allows your guests control of the sleeping area temperature and atmosphere

Examples: portable heater, air conditioner or fan, and egress windows that are easy to open and close

Comfortable beds and bedding

Reading material

Interesting and beautiful artwork
Nightstand or table with lamp

Space for clothes:

Examples: dresser/chest of drawers, clothes rod and hangers, a portable closet, or garment rack)

Window shades or curtains that fully close to assure privacy

Sound-absorbing wall hangings or partitions

Alarm clock

Radio, CD player or small television set

Box of tissues

Toilet paper and fresh towels for the bathroom
Want to get fancy? Consider putting fresh flowers, a few chocolates, or a pitcher of water with glasses on the nightstand ready to greet your guests when they arrive!
Furnishing for Guest Entertainment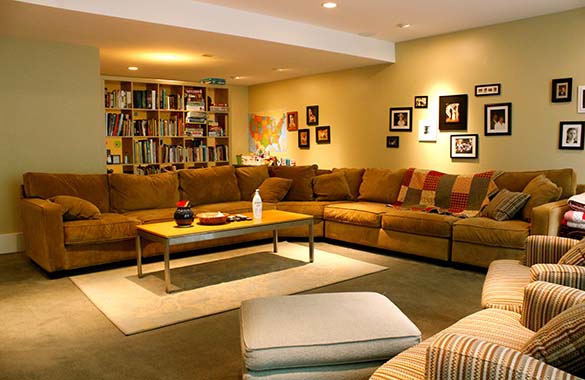 The furnishings that are best for entertaining guests vary greatly, depending on who your guests are. For example, hosting a movie-night requires different furnishings than hosting your child's playgroup. No matter what types of entertaining you plan, furnish your basement in a manner that provides safety and comfort and meets the needs of your guests.
If your kids want to have friends over, prep the basement with games and a comfortable couches or chairs.  Ask your children whether they prefer the seating to be living-room style, with a sofa and stuffed chairs or if they'd rather sit around a table. Most importantly, choose durable furniture that cleans easily and is stain-resistant – you'll be grateful for this in the future.
Consider adding a rearrangeable sectional. You and your family might arrange your sectional sofa pieces in a semicircle so that family members can enjoy watching television or a home movie together, or separate the sections into two parts that serve as an area divider.
What's company without something to eat or drink? Consider installing a wet bar, a cooler, a portable pantry, or a combination refrigerator and freezer. You might also want a microwave, toaster oven, stove, or – if you're like my family – a popcorn popper!
The choices that you and your family make express your family's tastes, preferences, and creativity. Believe me, this is worth the investment! When you furnish your basement to provide a welcoming atmosphere for guests, you and they are assured of happy times and enjoyable memories.