A basement that has a warm, inviting atmosphere increases resale value of the home. Part I and part II of this series addressed the importance of making sure the basement is structurally sound and easy to access. Lighting and ventilation were mentioned, along with the fact that buyers most prefer an extra bathroom and bedroom. Now, let's look at flooring and storage.
Floor Finishes Attract Buyers
Everyone notices floors. We have to look down in order to safely walk forward. The first item of importance for the basement, then, is to clear the floor so that there is an unrestricted walkway to all areas. In addition, the floor needs to look clean, well maintained and easy to care for. If there are small children or elderly persons in the prospective buyer's family, he or she also will be looking for non-slip flooring that provides a bit of cushioning should someone fall.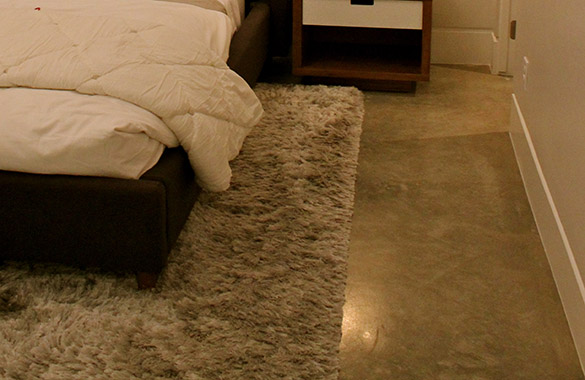 If the current floor surface in your basement is concrete, think of ways that you can make it more appealing. Carpet is always an options, but there are other, creative ways of installing a floor as well. If putting in a raised floor will cause room height to be less than eight feet, you may want to apply an epoxy-based paint instead. Laying rubber tiles directly over the concrete is another option. Alternatively, you could choose skid-resistant area rugs to cover the main living areas.
Rubber tiles come in a variety of colors and sizes. They insulate the floor and provide a soft cushion underfoot. Rubber is impervious to moisture, mold and mildew, and most types of rubber tiles are easy to clean. However, the tiles emit a mild scent that, although not harmful, can be obnoxious. If you choose to cover your basement floor with rubber tiles, be sure that you have a ventilation system that will keep odors from accumulating.
Coating a concrete floor with epoxy-based paint results in an attractive, durable finish. Epoxy-based concrete paint comes in a variety of colors, which allows you to make creative floor designs. Some kits contain a base color and chips in other colors that can be scattered over the first color. Another application method, described below, results in an easy-care surface that also hides dirt.
Scrub stains. Thoroughly clean and dry all areas of the concrete floor.
Uniformly paint the floor in a color that resembles one of the lighter colors of dirt in your yard.
Once the base coat dries, sprinkle a few other colors over the surface that you just painted. Artist's brushes or small paintbrushes work well for this task. When the paint dries, it resembles vinyl. Because there is no pattern, the sprinkles of paint provide highlights and add interest but do not distract from the basement's other features.
Buyers Like Storage Space
If your home is properly prepared for viewing, prospective buyers will picture themselves living there when they tour the home. Where to put things is always is a concern, so built-in storage becomes a strong selling point. Pantries, walk-in closets, extra linen closets, cabinets and chests, permanent shelving, and built-in storage benches all add resale value, usually without increasing property taxes.
The basement is an ideal location for increasing built-in storage. A corner cabinet, a custom-built storage unit under the stairwell, or a built-in storage bench under an egress window are but a few of the many possibilities. Prospective homeowners like thinking about living in a new home where there is plenty of storage for them to keep belongings out of the way yet easy to find. They also want to see the basement well lit and window wells provide unparalleled natural lighting.
What You Do Matters
A little extra effort can make a big difference. If other homes in your neighborhood are also for sale, take steps to make sure that your home stands out in the minds of prospective buyers. If all the houses are similar in design and construction, but your home is clean and well maintained, the floors look good, and your basement has more built-in storage and a window well, the scales will undoubtedly tip in your favor. Your home quite likely will be the one that sells first or brings the best price in the neighborhood. Good luck!