Lighting is a quintessential aspect of basement planning, but with so many choices, it can be difficult to know what types of lighting are best suited for your particular design. Once you read this article and next week's post, you will be better able to select lighting that meets your family's needs and preferences. The following steps will help you plan.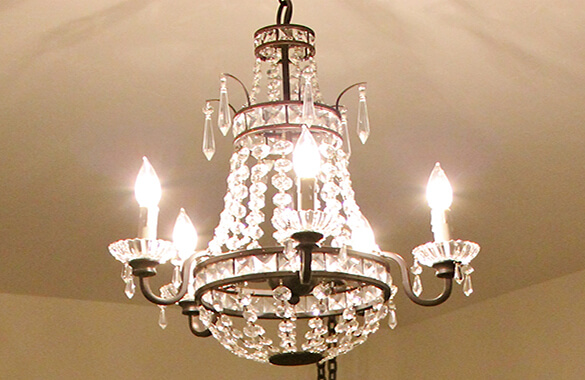 Ambient Lighting
First, figure out what you want to use for ambient lighting (the lights that will be used to illuminate an entire room or space). Whether you use ceiling lights or wall lights will depend on the overall lighting effect you want to achieve.
To create an open atmosphere: Choose recessed ceiling lights (a.k.a. canned lights). These lights are an excellent choice for basements with low ceilings, and they are less likely to get broken in game rooms or play areas.
To create the illusion of height: Install ceiling lights that provide indirect lighting to the room. These lights shine upward to bounce light off the ceiling into the room.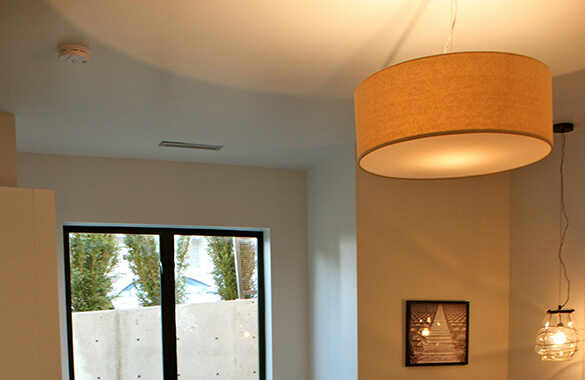 If your basement has a dining area: Select ambient lighting that is suspended from the ceiling. Chandeliers are just one of many styles that you can choose from.
If your basement is multifunctional: Install track lights. Because you can change the position and direction of individual lights in each track, this type of lighting can be used to provide both ambient lighting and task lighting.
For basement bedrooms and movie spaces: Choose wall lighting that gives a soft, quiet look and feel.
Task Lighting
Once you have figured out the ambient lighting, look into task lighting. This type of lighting is meant to increase the light needed in certain areas of a room depending on its intended function.
Kitchens: If your basement has a kitchen, consider installing lights underneath the cabinets to illumintate the countertops used for food preparation. Also think about installing a task light above the sink. You may want additional task lights, either ceiling or wall, that shed more light into the refrigerator or freezer.
Bathrooms: For bathrooms, wall task lights installed above and at both sides of the mirror over the sink work wonderfully and increase visualization.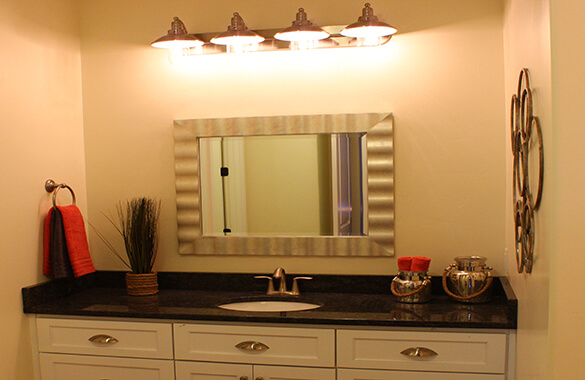 Work Space: Although track lights work well, task lights for reading, working on hobbies or performing office work often are provided by lamps. Next week's article will cover lamps in more detail.
Accent Lighting
Once you know what lights you want for ambient lighting and for task lighting in each room, think about how to use light to attract attention and provide emphasis. Properly planned accent lighting can bring out the best in a piece of artwork, highlight a plant or draw attention to a special architectural feature. Consider what you would like others to notice when they enter the room.
Strategically placed lights that are recessed in the ceiling work well to shed light downward onto an object.
Curved track lighting works to encircle special features with light from above.
Wall lights can provide special highlights or remove shadows.
Food for Thought
In selecting lights, consider the amount of heat they produce. Improperly installed lights may present a safety hazard and could potentially start a fire. Also, make sure the fixtures you choose are compatible with the type of bulb or tube you want to use. A little thought now can save a lot of time and expense later on.
A wonderful way to gain first-hand knowledge of all the options in lighting that are available to you is to invite your family to go with you to a local lighting fixture showroom. Browse, ask questions, and find out what's new. Imagine the way each room will look with different lighting choices. It's fun to share in the joy as family members excitedly anticipate the new look of your finished project.